Google I/O 2019
The spring is in the air
I'll see Googlers everywhere I fall in love with the I/O
Android Q will have a go
(original lyrics by BZN)
May is a busy tech season and with good reason. The digital pioneer is hitting top gear stealing all the tech spotlight.
Google: Yesterday, Today, Tomorrow
Founded in 1998 by Ph.D. students Larry Page and Sergey Brin, Google has a long history of achievements building a big name and a worldwide reputation. Originating as a research project, it evolved into a search engine based on the developed technology PageRank which analyzed websites relationships instead of counting frequency of search terms. Over the years, hundreds of web-based products, desktop, and mobile applications, dev tools, OS and hardware have been developed.
Long passed the time of Google as a search engine. Now the multinational giant is rated one of the Big Four tech companies, along with Amazon, Apple, and Facebook. With the most popular mobile OS – Android – and the most visited website – Google.com, the company focuses on building driverless cars and delivery drones, implementing AI, AR and other innovations into products and services. Google is ubiquitous these days.
Have a look at the map of Android and iOS use all over the world by Device Atlas in 2018.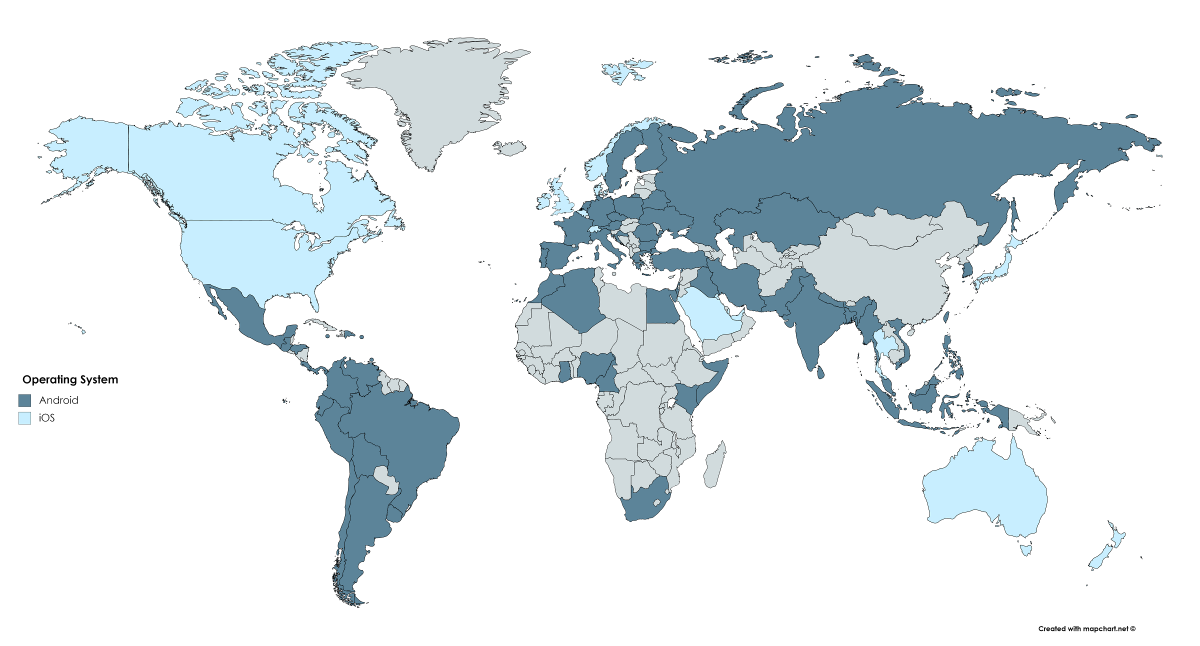 Google I/O: Celebrating Innovations
In May, the annual developer conference takes place in Mountain Dew, CA, also known as the Googleplex. There, Googlers share their vision for tomorrow fully mirroring various interpretations of I/O – Input/Output, Innovation in the Open, or well-known binary 0 and 1. The first event was organized in 2008. Ever since, the company has been making more headway every year. No wonder, the whole tech community holds breath in anticipation of groundbreaking products and services.
Kaleidoscope of all the I/O Events
2008
2009
Chrome was inaugurated
Google Web Toolkit got developed.
2010
Chrome Web Store on offer
Google App Engine was upgraded
Video codec VP8 and WebM video format were introduced
Google TV combined Web everlasting entertainment and comfortable screens for eyes RESTful cloud service of Google Storage for Developers welcomed
APIs (Prediction, Buzz, Moderator) were a real hit.
2011
Android featured Google Music, upgrading Honeycomb up to v. 3.1 and getting Ice Cream Sandwich
Chrome and Google Chrome OS got loaded with browse-to-buy Chrome Web Store and web version of Angry Birds
Samsung and Acer Chromebook laptops were rolled out.
2012
Android 4.1 Jelly Bean starting with Project Butter made graphics smoother when scrolling and swiping, along with easier touchscreen input recognition.
Nexus 7 was marketed as a 7-inch screen tablet designed with Asus and running on Jelly Bean.
Google Docs was updated for offline text editing with later synching the changes to the cloud (when online).
Google Drive App opened up storage services for Apple's iOS. iOS-friendly Chrome was unveiled.
Nexus Q streaming media player offered access to cloud-based tunes of Google Music, YouTube videos, and Google Play movies and TV episodes.
2013
Android Studio of IDE built was released for Android developers.
Google Maps featured a simplified UI and presented info of interest on screen.
Glass units were showed off with photo-taking and call-making features.
Hangouts was ambitiously launched for messaging.
Google+ got redesigned with some new features.
2014
L Developer Preview (tools for bespoke typography, grid and color changes), Android Wear (smartwatch with the "Ok Google" prompt and app sync), Android Auto (a voice-enabled solution for connected devices when behind the wheel), and Android TV (to watch live TV or stream content enhanced with cast info and related clips from YouTube) were released.
Google Cloud improvements got demoed with a suite of tools, e.g Save, Monitoring, Trace, and Debugger.
Google Fit (multi-OS API) was announced to collect fitness data into one place.
2015
Android M got power optimization, new services, and apps interaction changes (less alarming app permission requests).
Google Photos was introduced as a photo app to organize and back photos up (free).
Google Maps went offline for places with poor connectivity by loading fewer images and saving pages for non-online use.
Android Wear got a smoother platform with an always-on screen, simpler and quicker app launching, and even Uber calling.
Android Pay went public for app purchases, offline shopping by tapping an NFC sensor, and authenticating payments for phone supported fingerprint sensors.
Virtual Reality got its own zone with Expeditions, an education tool, and VR camera rig.
2016
Google Assistant became a hit by using a more human voice to answer queries and weaving its way into AI-powered Allo messenger with high standards of privacy and Google Home speaker with always-listening microphones built into a wide array of services to reply to questions and follow commands.
Daydream, a mobile VR platform, created a complete ecosystem to enjoy games in.
Duo kicked off by focusing on Android and iOS video-only communication, where the person you want to get in touch with is shown your fresh image which is updated each time you launch the app.
Android N won users over with split-screen multitasking, battery optimization, Vulkan API, quick settings buttons, and extra fun emojis.
2017
Google Assistant remained a wow, another year in a row. Using a smartphone camera and Google Lens, it could analyze surroundings to bring relevant info on the screen. Plus, it became a standalone iOS-friendly app.
Google Home grew into a phone with a private number.
Google Photos got Suggested and Sharing features to recognize people in the shot and share photos, Shared Libraries for family/group access, and Books of pictures.
VR headsets were announced to track virtual space AR Tango system.
Android O went beta.
Android Go was released as a mobile OS for entry-level devices along with a slew of updated apps with the requirements of less storage, memory, and data.
2018
Google Assistant could speak in six different voices and follow several commands in one phrase, run a pick-up and delivery scheme, as well as introduce smart displays.
Google Duplex managed reservation phone calls with back-and-forth Q&A in a human-sounding voice with inactive online booking making a huge leap to humans dealing with AI.
Waymo self-driving Jaguar I-Pace looked down-to-earth and mass-market.
Smart Compose of Gmail offered to make and finish sentences for you.
Number one helper in plotting your fastest routes on screen and navigating your way through unknown areas, Google Maps got upgraded with Google Lens for a clear understanding of the blue dot destination.
Not limited to Google-branded phones only as also supported by Nokia, Xiaomi, Sony, Android P is more device (better battery life conservation) and user-friendly (Dashboard, fixed volume slider, and screen rotation).
Looking back on the wide range of achievements starting with Android launch in 2008, building up steam with VR, AR, and AI along the way, Google has been moving onwards and upwards, innovating technologies and coming up with more and more groundbreaking results year by year. Google goodies of the previous events have really piqued curiosity to anticipate 2019 surprises in store.
Google I/O 2019 Focus
With a promising tendency of growing the tech industry in leaps and bounds, it's a little surprise this year conference brought forward numerous eye candies for developers and users. Despite plentiful predictions and sneak peeks, May 7 was a much-awaited event around the world with worthy surprises up the sleeve. In fact, even F8 held from April 30 to May 1 couldn't take the edge off tech anxiety.
Setting off on a tech discovery journey, Google pointed out that today more than 2.5 billion Android devices are in active use. That was one impressive start.
Let's have a look at the Google I/O 2019 highlights:
Pixel 3a and Pixel 3a XL of 5.6 and 6-inch displays were number one hardware announcements. Featuring the top-of-the-line Google Pixel 3 camera specs of Night Shift and Super Res Zoom, they are only half the price – $399 for the 3a and $479 – the XL, which naturally created a boost. Plus, new smartphones got a headphones jack (unlike the big brother Pixel 3).
Nest Hub Max smart speaker of a 10-inch screen and security camera got on hardware radar as well. This updated Home Hub (under this name until 2019) uses the camera for both security and calls keeping even a speaker on the move always in the center. However, it can be easily disabled for those who don't want to be Google followed.
Android Q beta 3 debuted with the highlights of Dark Theme to suit personal preferences and save the battery for OLED screens, along with new gesture navigation options (no more back buttons).
Live Caption generates subtitles for any video, including video chats, which can be a great help for people with hearing impairments. Interestingly, Project Euphoria is also underway for people with speech impairments to get the voice back.
Google Assistant weaves the magic of processing voice commands now with 500MB of storage space (up 100GB previously) which makes the gadget up to 10 times faster.
Google Duplex now can fill in website forms, e.g. reservation info, hire car and more. All you need is to confirm the inputted details.
Google Search is getting AR visuals. From now on, 3D representations of search results are available.
Google Lens goes on recognizing images and objects. It got restaurant clever by suggesting dishes from a menu and bill-tip splitting. Even more, by pointing your camera at a written recipe, you get video tutorials.
Kotlin is going to be pioneering in Android development and at the developer keynote Google notes that it's going to be a recommended programming language.
Google Stadia got off the ground with triple-A game streaming potential for just internet access paired with the Chrome web browser. It hit the mark with a feature of device switching to have games on the go.
One more grand 2019 event is over. Despite all the hype, Google keeps working even harder and more creatively to launch the products planned in 2019 and make strong technological impressions next year. Get your own first-hand experience of the event. Enjoy the official Google keynote at the Youtube channel or the 13-minute version of the Verge both led by by Sundar Pichai.